Valerie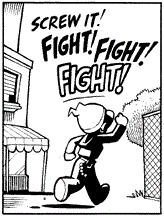 Joined: 02 Apr 2013
Posts: 251

Posted: Tue May 07, 2013 9:23 pm

Post subject:

---

Rune wrote:

Valerie wrote:

Rune wrote:

Valerie wrote:

SomeGuy411 wrote:

Valerie wrote:
But I think we can let bygones be bygones. It was a simple mistake.

NOW BACK TO MY WORLD-CONQUERING. I need to find a paperclip, six elephants, and a jar of strawberry preserves...



Well, here's a couple paperclips, a jar of raspberry preserves, and four elephants. I pray this is enough to have what little is mine left alone?



Hmmm, not exactly what I was planning, but maybe if I could find a rosary and half a tube of lipstick...



Plastic or aluminum?



I was thinking wood.



Would bamboo do? If so, I gotcha covered.



Hm, well maybe if we host a barbeque first...
_________________
Men and patriarchy aren't interchangeable.